Please contact us before submitting your files to the FTP server to provide us with your contact information and all the relevant information to complete your job. You may also submit a quote request if you need a job quoted.

1716 N. Wheeling Ave.
Muncie, IN 47303
(765) 289-7756
(800) 515-GOHP (4647)
(765) 282-3718 FAX
APPLE/MACINTOSH - If you are using an Apple Macintosh computer, you need to access the ftp server by the "GO - Connect to Server" command (Command-K).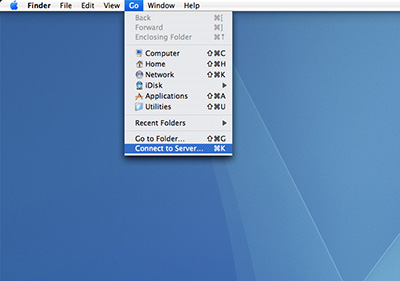 Enter the server address: "ftp://hiattprinting.com/" (without the quotes)
Connect to the server and when prompted, enter the:
username: hiattprinting
password: Hiatt1716 (this is CASE SENSITIVE, so use the capitalized "H").
Click on the "OK" button or just press enter and you should then see the folders and files on the FTP Server.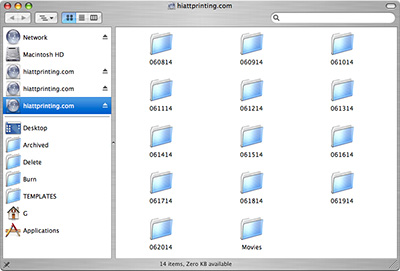 You can then drag the folders or individual files contained within the folders to or from the FTP Server.
If for whatever reason you cannot use or successfully access the FTP website and the folders and files contained thereon, please let us know.
It is possible to upload files to this ftp site as well. Just create a folder and uniquely name it (maybe your name?) locally on your computer. Place a copy of your files into the folder and simply copy/paste or drag the folder to the ftp server to upload them.